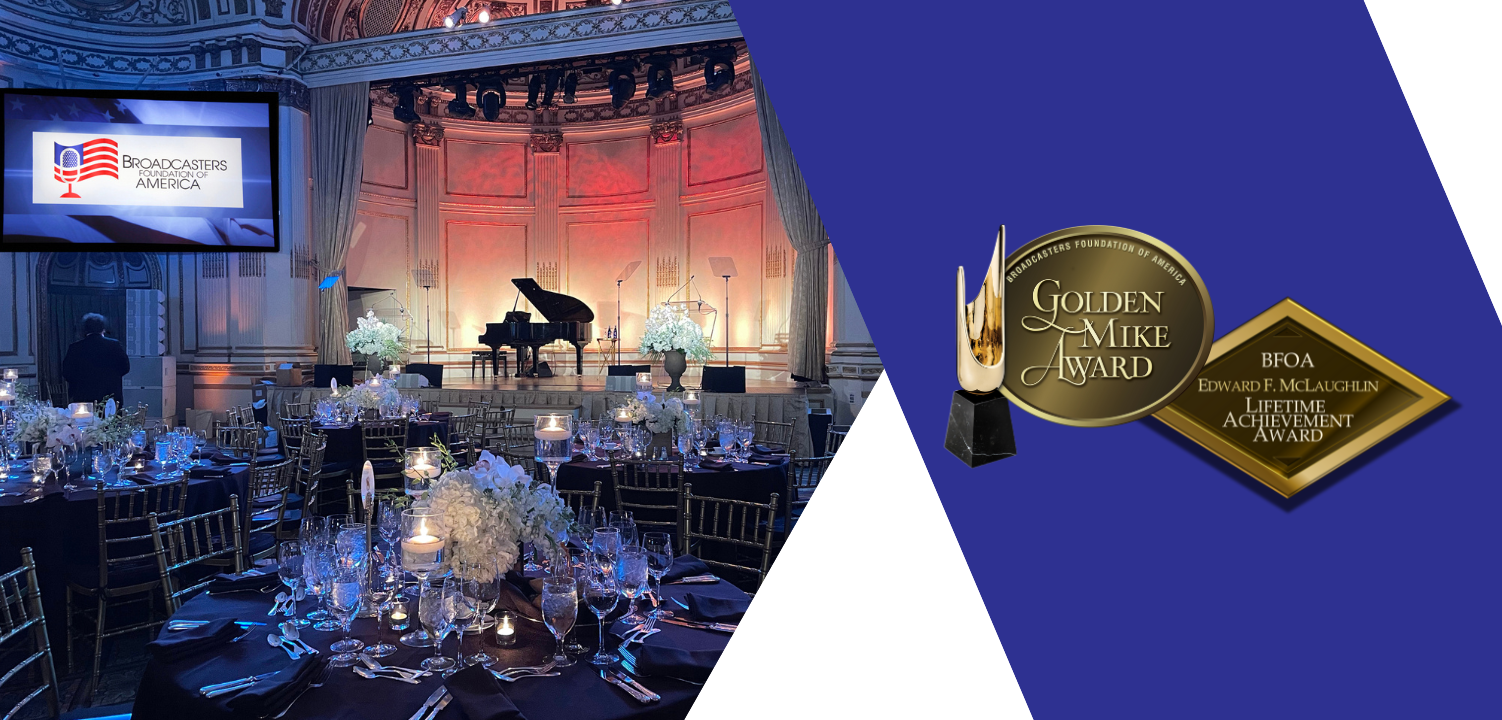 BFOA Golden Mike Award and EFM Lifetime Achievement Award
The BFOA Golden Mike Award honors a broadcaster who has dedicated their career to radio and television, is a champion for the broadcasting industry, and has made lifelong achievements in the field.
The Edward F. McLaughlin Lifetime Achievement Award, named for
the Broadcasters Foundation of America's former Chairman, honors a broadcaster who has made invaluable contributions to the television and radio industry.
2023 GMA    Jack Abernethy, CEO, FOX TV Stations
2023 LAA      Richard E. Wiley, Chair Emeritus, Wiley
2022 GMA    Hilton H. Howell, Jr., Gray Television
2022 LAA      Lesley Visser, celebrated sportscaster
2020  GMA   Dave Lougee, TEGNA, Inc.
2020 LAA      George Beasley, Founder/Chairman, Beasley Media Group
2019 GMA    Perry A. Sook, Nexstar Media Group, Inc.
2018 GMA    Emily L. Barr, Graham Media Group
2018 LAA      Edward F. McLaughlin
2017 GMA    Paul Karpowicz, Meredith Local Media Group
2017 LAA      Bill Hoffman, President, Cox Media Group
2016 GMA    Bob Pittman, iHeartMedia
2016 LAA      Charles Osgood
2015 GMA    Gordon Smith, NAB
2015 LAA      Dick Clark
2014 GMA    Del Bryant, BMI
2013 GMA    David Barrett, Hearst Corporation
2012 GMA    Dennis Swanson, Fox TV Stations
2011 GMA    Alan Frank, Post-Newsweek Stations
2010 GMA    Michael Bloomberg, former NYC Mayor
2009 GMA    Peter Smyth & the Bordes Family, Greater Media
2008 GMA    Anne Sweeney, Disney Media Networks & ABC TV Group
2007 GMA    Ken Lowe, E.W. Scripps
2006 GMA    Jeff Smulyan, Emmis Communications
2005 GMA    Percy Sutton and The Inner City Broadcasting Family
2004 GMA    Frances Preston, BMI
2003 GMA    Bob Wright, NBC/GE
2002 GMA    Catherine Hughes and Alfred Liggins, Radio One
2001 GMA    Lowry Mays, Mays Family and Clear Channel Communications
2000 GMA    Edward O. Fritts and the NAB
1999 GMA    John Conomikes and Hearst-Argyle Television
1998 GMA    Ralph Guild and Interep
1997 GMA    Hubbard Broadcasting and The Hubbard Family
1996 GMA    Norman Knight & Knight Quality Stations of New England
1995 GMA    The Tribune Broadcasting Company
1994 GMA    Capitol Broadcasting, Raleigh, North Carolina
1993 GMA    Fisher Broadcasting, Seattle, Washington
1992 GMA    WGY Radio and General Electric Broadcasting, Albany, NY
1991 GMA    WOAI-Radio, San Antonio, Texas
1990 GMA    US Armed Forces Radio Defense, Secretary Richard Cheney