NBCUniversal's Frank Comerford to Chair the 2023 BFOA Celebrity Golf Tournament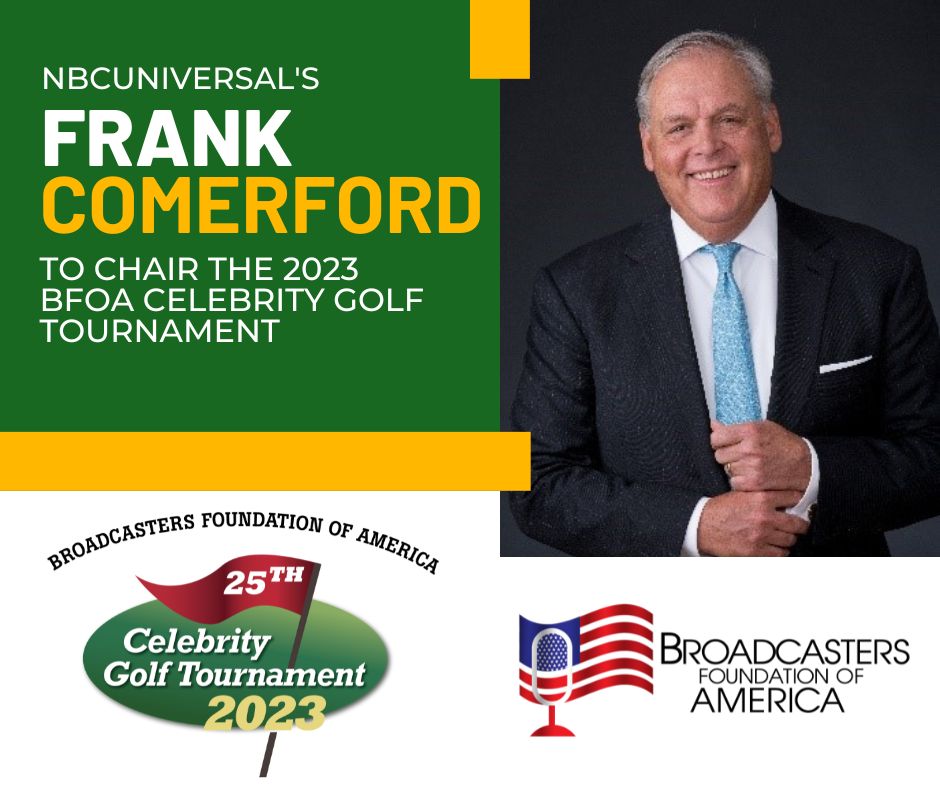 New York, NY – June 26, 2023 – The Broadcasters Foundation of America has announced the date of The 2023 Celebrity Golf Tournament, its second largest annual fundraiser, on Monday, September 11 at the Greenwich Country Club in Greenwich, CT. Frank Comerford, Chief Revenue Officer and President of Local Sales, NBCUniversal Advertising & Partnerships, will serve as this year's Chair.
"The Broadcasters Foundation is the only charity devoted exclusively to providing aid to our colleagues in broadcasting who are in dire need," said Comerford. "For me, chairing the Celebrity Golf Tournament is an opportunity to give back."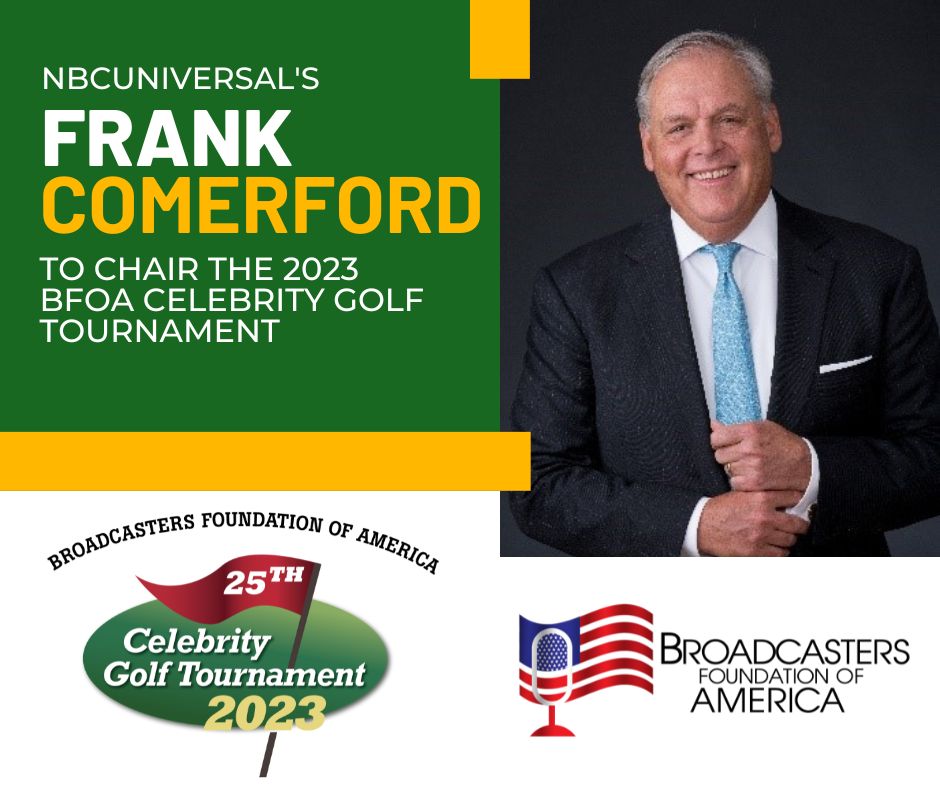 "We're grateful that Frank is donating his time and leadership to this year's Celebrity Golf Tournament," stated Tim McCarthy, President of the Broadcasters Foundation. "The Celebrity Golf Tournament brings in a significant amount of the much-needed dollars we need to continue to help our colleagues who have fallen on tragic circumstances and need our help."
Comerford has worked in the television industry for more than 40 years, including over 30 years with NBCUniversal. In his current role, which he's held since 2013, Comerford oversees all commercial efforts for 43 NBC and Telemundo television stations and associated websites and digital platforms, six regional sports networks, NECN regional news network, multicast networks COZI TV and TeleXitos, NBCLX and NBC Spot On. He is active in the community and serves on many charitable boards, including the Archdiocese of New York Catholic Charity, Xavier High School, and the New York City St. Patrick's Day Parade Committee.
About the Broadcasters Foundation of America: www.broadcastersfoundation.org
Over its more than 70 years of existence, the Broadcasters Foundation has distributed millions of dollars in aid to broadcasters who have lost their livelihood through a catastrophic event, debilitating disease, or unforeseen tragedy.
The mission of the Broadcasters Foundation of America is to improve the quality of life of men and women in the radio and television broadcast profession who find themselves in acute financial need due to a critical illness, severe accident, or other serious misfortune. The Broadcasters Foundation of America is a 501(c)(3) Public Charity and has been rated 100 from Charity Navigator for solid financial health and received full credit for its program to expense ratio.
Media Contact for Broadcasters Foundation:
Renee Cassis
RC Communications Marketing
646-808-6505
cassis2@msn.com
Media Contact for NBCUniversal:
Kelly O'Halloran
Communications Manager
NBCUniversal Advertising & Partnerships
646-831-8506
kelly.o'halloran@nbcuni.com