BFOA Announces the 2023 Leadership Awards Recipients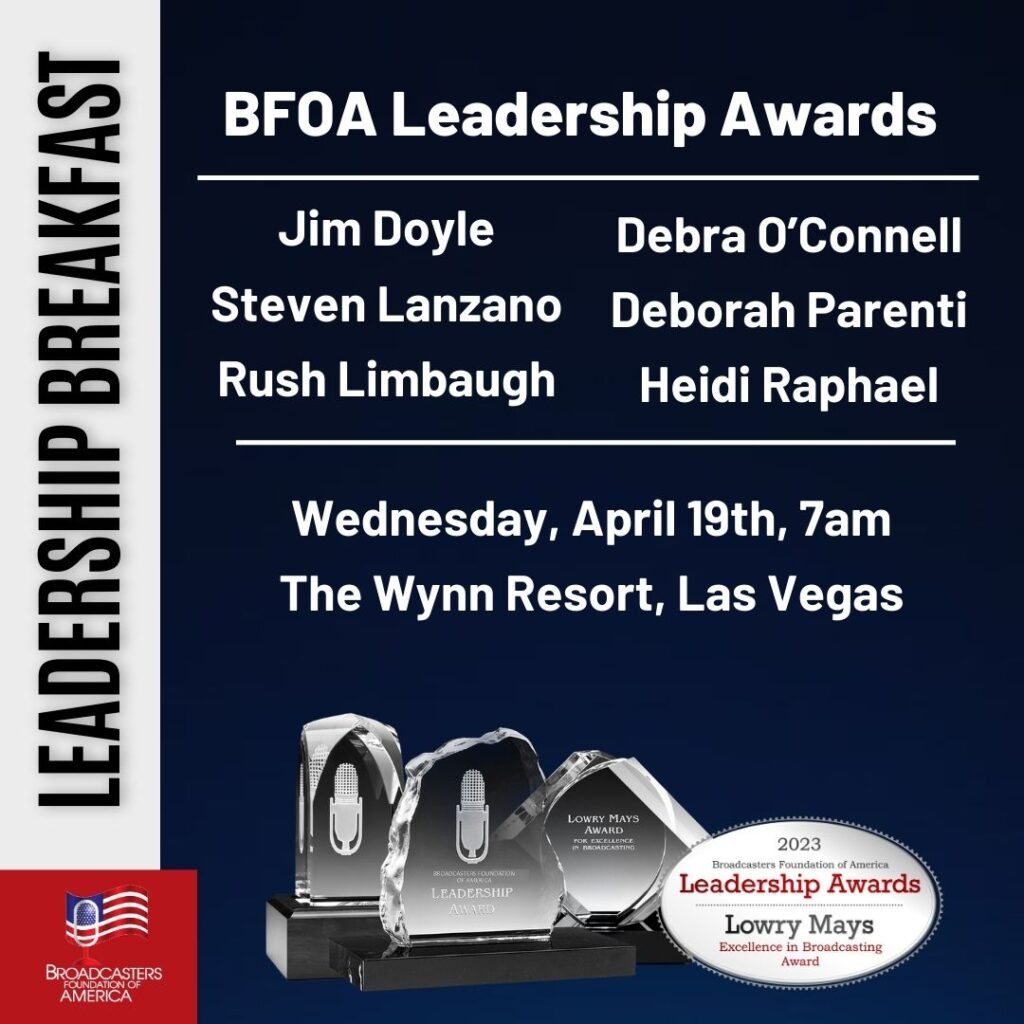 Broadcasters Foundation of America, the charity devoted exclusively to helping broadcasters in need, is proud to announce the recipients of the 2023 Leadership Awards. The Leadership Awards are given annually in recognition of career contributions to the broadcast industry and the community at-large. The Awards will be presented at the Broadcasters Foundation Annual Breakfast, 7:00AM, Wednesday, April 19 in Room Bandol Two, at the Wynn Las Vegas, during the National Association of Broadcasters (NAB) Show.
The 2023 Leadership Awards honorees are:
Jim Doyle, Founder, JDA Media
Steven Lanzano, President, Television Bureau of Advertising
Rush Limbaugh, Radio Host and Political Commentator, Deceased, Award accepted by his widow Kathryn Limbaugh
Debra O'Connell, President, Networks, The Walt Disney Company
Deborah Parenti, President & Publisher, Radio Ink/RBR+TVBR
Heidi Raphael, Chief Communications Officer, Beasley Media Group
The Broadcasters Foundation will also present the Lowry Mays Excellence in Broadcasting Award during the Breakfast. That honoree will be announced shortly.
The Broadcasters Foundation Breakfast is complimentary to all in broadcasting. Registration is required: click here, call 212-373-8250, or email info@thebfoa.org.
The Broadcasters Foundation of America has distributed millions of dollars in aid to broadcasters who have lost their livelihood through a catastrophic event, debilitating disease, or unforeseen tragedy. Personal donations can be made to the Foundation's Guardian Fund. Corporate contributions are accepted through the Angel Initiative, and bequests can be made through the Foundation's Legacy Society. For more information, please visit www.broadcastersfoundation.org, call 212-373-8250, or email info@thebfoa.org.
More information, including how to make a donation or apply for aid, is available at www.broadcastersfoundation.org, or by contacting the Broadcasters Foundation at 212-373-8250 or info@thebfoa.org.
About the Broadcasters Foundation of America: www.broadcastersfoundation.org
The mission of the Broadcasters Foundation of America is to improve the quality of life of men and women in the radio and television broadcast profession who find themselves in acute financial need due to a critical illness, severe accident, or other serious misfortune. The Broadcasters Foundation of America is a 501(c)(3) Public Charity and has been rated 100 from Charity Navigator for solid financial health and received full credit for its program to expense ratio.
Media Contact:

For Broadcasters Foundation of America
Renee Cassis
RC Communications Marketing
646-808-6505
Cassis2@msn.com