Broadcasters Celebrate at the 2023 BFOA Golden Mike Gala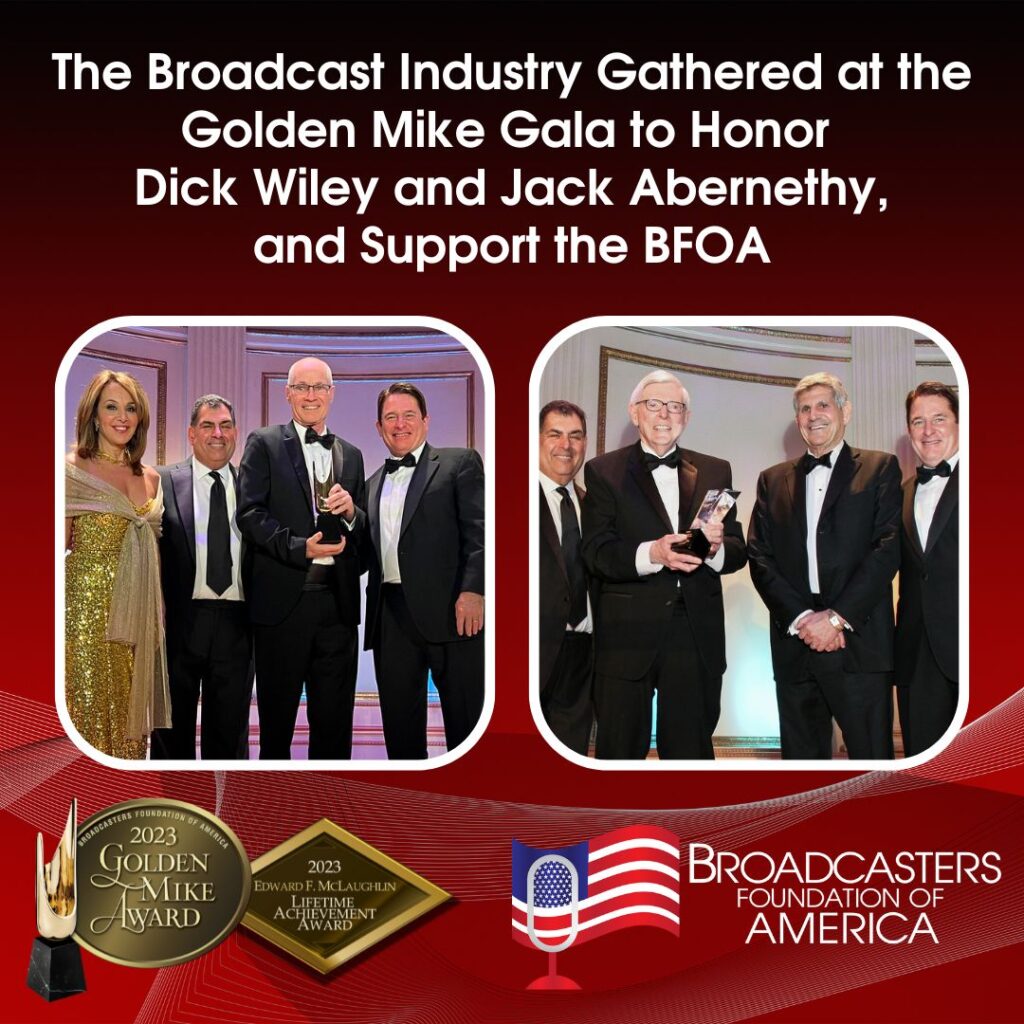 255 Broadcast Industry Executives and Celebrities Gathered at the Golden Mike Gala to Honor Dick Wiley and Jack Abernethy and Support the Broadcasters Foundation of America
Two-hundred-and-fifty-five radio and television executives and celebrities gathered at the famed Plaza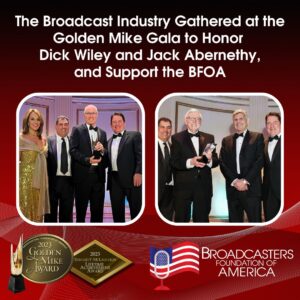 Hotel in New York City Monday night to honor Jack Abernethy, Chief Executive Officer of FOX Television Stations, with the 2023 Golden Mike Award, and Richard E. Wiley, former Chairman, Commissioner, and General Counsel of the Federal Communications Commission (FCC) and one of the most prominent media and telecommunications lawyers, with the 2023 Edward F. McLaughlin Lifetime Achievement Award. The annual gala is a fundraiser for the mission of the Broadcasters Foundation of America, which provides financial assistance to broadcasters in acute need.
In addition, more than a dozen broadcast celebrities joined the festivities including: Steve Doucy, co-host of Fox & Friends; Deborah Norville, host of Inside Edition and a member of the Broadcasters Foundation's Board of Directors; Sid Rosenberg, Judge Jeanine Pirro, Rita Cosby, Frank Morano, and Dominic Carter from 77 WABC Radio and the Red Apple Audio Networks; Angela Yee and Maxwell from Z100; Mark Simone from WOR; and Damon Amendolara from CBS Sports Radio Network.
For more information, to donate, or to apply for aid, please visit www.broadcastersfoundation.org, call 212-373-8250, or email info@thebfoa.org.
About the Broadcasters Foundation of America: www.broadcastersfoundation.org
The mission of the Broadcasters Foundation of America is to improve the quality of life of men and women in the radio and television broadcast profession who find themselves in acute financial need due to a critical illness, severe accident, or other serious misfortune. The Broadcasters Foundation of America is a 501(c)(3) Public Charity and has been rated 100 from Charity Navigator for solid financial health and received full credit for its program to expense ratio.
Media Contact:

For Broadcasters Foundation of America
Renee Cassis
RC Communications Marketing
646-808-6505
Cassis2@msn.com