Soledad O'Brien to Host 2023 BFOA Golden Mike Award Ceremony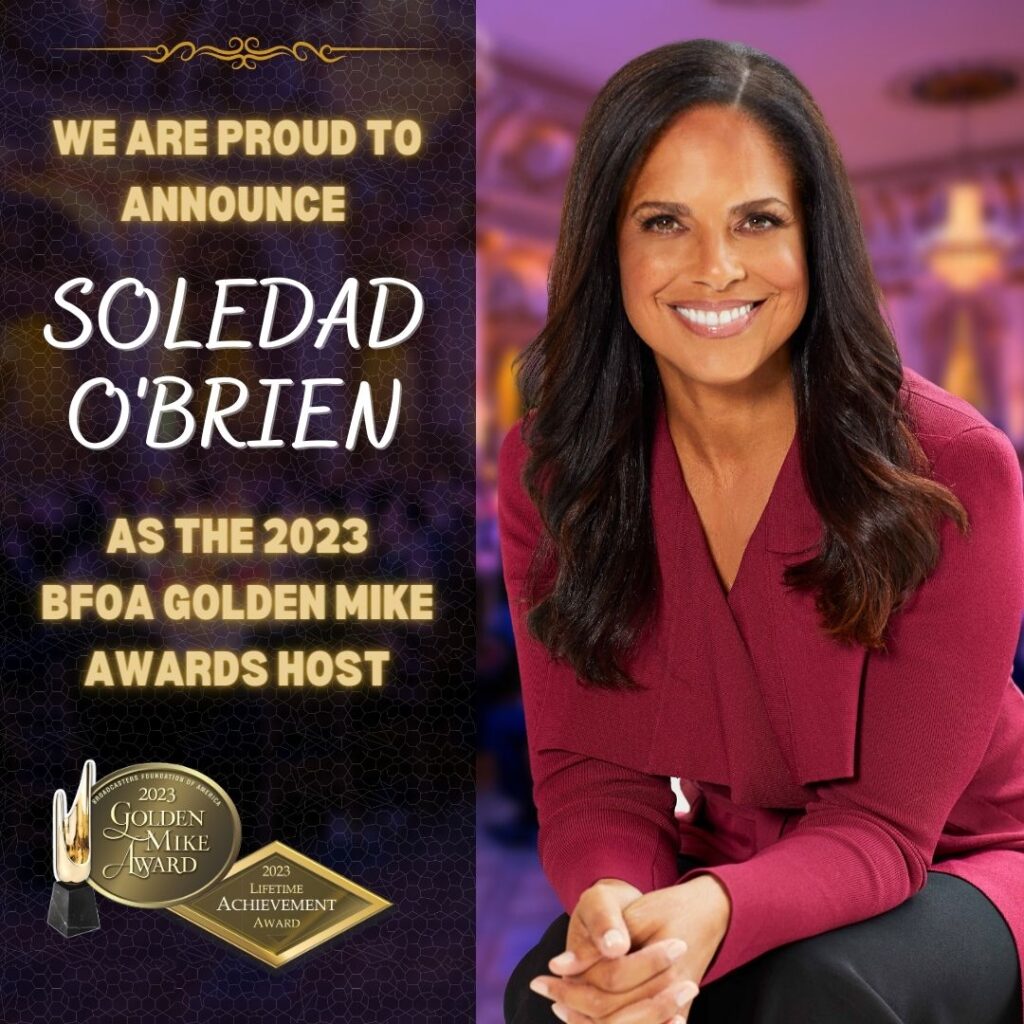 Broadcasters Foundation of America is proud to announce the host for this year's BFOA Golden Mike Award dinner and ceremony will be EMMY Award-winning broadcast journalist and nationally syndicated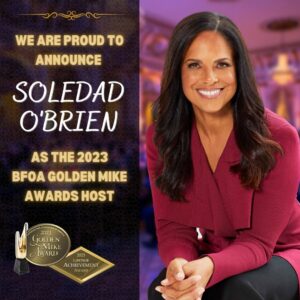 talk show host Soledad O'Brien. The 2023 BFOA Golden Mike Award gala will take place Monday, March 6, at the Plaza Hotel in New York City. The annual event is the biggest fundraiser for the Broadcasters Foundation, whose sole mission is to provide aid to radio and television professionals in acute need.
O'Brien currently hosts the nationally syndicated Matter of Fact with Soledad O'Brien, which is produced by Hearst Television. She has anchored shows on CNN, MSNBC, and NBC, hosted projects for Fox and A&E, and contributed to Oxygen, Nat Geo, the PBS NewsHour, and WebMD.
We're very excited to have O'Brien host this year's Golden Mike Award dinner," said Tim McCarthy, President of the Broadcasters Foundation. "She is a multiple award-winning broadcast journalist whose reporting has brought awareness on numerous issues to the forefront. Combined with her philanthropic endeavors, she is the perfect person to host our special evening."
As a result of her coverage of the Haiti earthquake, the 2012 election, and a series called "Kids and Race," O'Brien was honored with three Emmy awards. Her reporting on Hurricane Katrina and the BP Gulf Coast Oil Spill earned her two George Foster Peabody awards, and her coverage on the Southeast Asia tsunami garnered CNN an Alfred I. DuPont-Columbia University Award. She and her husband, Brad, founded the PowHERful Foundation in 2011 following Hurricane Katrina to help young women attend colleges and complete their degrees.
As previously announced, this year's BFOA Golden Mike Award honoree will be Jack Abernethy, Chief Executive Officer of FOX Television Stations. The Lifetime Achievement Award will be presented during the gala fundraiser to Richard E. Wiley, former Chairman, Commissioner, and General Counsel of the Federal Communications Commission (FCC) and one of the most prominent media and telecommunications lawyers in broadcasting.
The Broadcasters Foundation of America Golden Mike Award dinner attracts a who's who of broadcast media executives and celebrities. Previous Golden Mike recipients include Hilton Howell, Dave Lougee, Emily Barr, David Barrett, Michael Bloomberg, Cathy Hughes and Alfred Liggins, Bob Pittman, Gordon Smith, Jeff Smulyan, Perry Sook, and more. Lifetime Achievement Award recipients have included Lesley Visser, George Beasley, Ed McLaughlin, Bill Hoffman, Charles Osgood, and Dick Clark. For information, or to reserve a seat or table, please contact the Broadcasters Foundation at 212-373-8250 or info@thebfoa.org.
For information, or to reserve a seat or table at the Golden Mike Award gala and fundraiser, please contact the Broadcasters Foundation at 212-373-8250 or info@thebfoa.org.
About the Broadcasters Foundation of America:
The Broadcasters Foundation has distributed millions of dollars in aid to broadcasters who have lost their livelihood through a catastrophic event, debilitating disease or unforeseen tragedy. Personal donations can be made to the Foundation's Guardian Fund. Corporate contributions are accepted through the Angel Initiative, and bequests can be made through the Foundation's Legacy Society. For more information, please visit www.broadcastersfoundation.org, call 212-373-8250, or email info@thebfoa.org.
The mission of the Broadcasters Foundation of America is to improve the quality of life and maintain the personal dignity of men and women in the radio and television broadcast profession who find themselves in acute need. The Foundation reaches out across the country to identify and provide an anonymous safety net in cases of critical illness, advanced age, death of a spouse, accident and other serious misfortune. The Broadcasters Foundation of America is a 501(c)(3) Public Charity.
Media Contact:

For Broadcasters Foundation of America
Renee Cassis
RC Communications Marketing
646-808-6505
Cassis2@msn.com