BFOA Honors Longtime Former President and Beloved Industry Leader Jim Thompson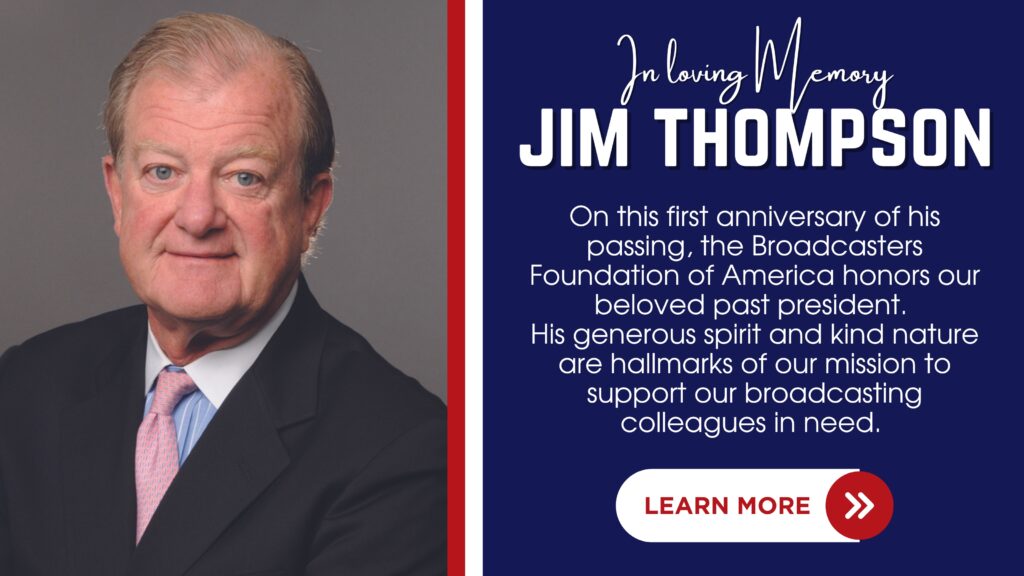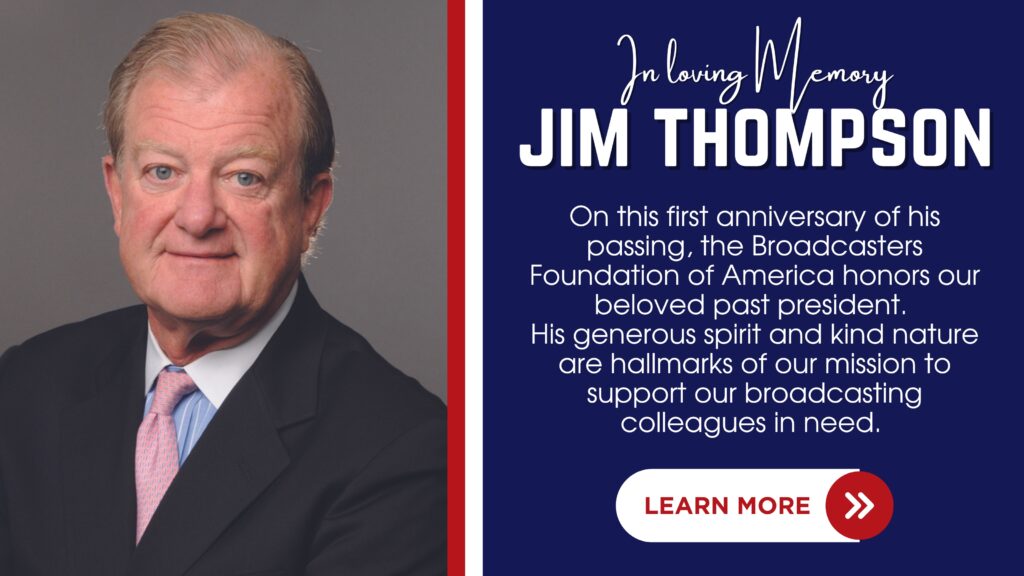 New York, NY – Monday, August 14, 2023 – The Broadcasters Foundation of America is honoring its longtime former President and beloved broadcaster, Jim Thompson, with a home page takeover on their website at wwwbroadcastersfoundation.org . Thompson, who passed away on this day a year ago, took the reins of the Broadcasters Foundation in 2008. During his 14-year tenure he led the charity to raise $10 million, quadrupling the amount of financial aid awarded to radio and TV professionals in need from debilitating illness, accident, or disaster.
"It's hard to believe our friend and colleague left us a year ago," said Scott Herman, Chair of the Broadcasters Foundation. "A true leader and exceptional human being, Jim helped everyone all the time. That's the kind of person he was. I am proud to have known Jim for nearly 40 years as a colleague and a friend. He is sorely missed."
"Jim believed deeply in helping others," stated Tim McCarthy, President of the Broadcasters Foundation. "Jim combined his compassion for others with his exceptional leadership qualities to rally others to donate and help those in our industry who need it most. It was hard to say no to Jim. He always got you to say yes."
Thompson's career included President and CEO of Group W Radio and co-owner of Liberty Broadcasting. He created the Radio-Mercury Awards and served on the boards of the Radio Advertising Bureau and the Advertising Council and was Vice Chair of the Pennsylvania State Broadcasters Association.
Thompson was named "Radio Executive to Watch" by Advertising Age, "Radio Executive of the Year" by Radio Ink Magazine. Posthumously, Thompson was inducted into the Broadcasting & Cable Hall of Fame and The Radio Hall of Fame. A member of the U.S. Army, Thompson served in Vietnam.
Upon Thompson's passing, the Broadcasters Foundation created The Jim Thompson Memorial Fund, which remains open in his honor. To donate any amount, please click here.
To apply for financial aid or make a general donation, radio and TV professionals may visit www.broadcastersfoundation.org, call 212-373-8250, or email info@thebfoa.org.
About the Broadcasters Foundation of America: www.broadcastersfoundation.org
The mission of the Broadcasters Foundation of America is to improve the quality of life and maintain the personal dignity of men and women in the radio and television broadcast profession who find themselves in acute need. The Foundation reaches out across the country to identify and provide an anonymous safety net in cases of critical illness, death of a spouse, accident, and other serious misfortune. The Broadcasters Foundation of America is a 501(c)(3) Public Charity and has been rated 100 from Charity Navigator for solid financial health and received full credit for its program to expense ratio.
Media Contact for Broadcasters Foundation of America:
Renee Cassis
RC Communications Marketing
646-808-6505
cassis2@msn.com