Chad Lopez & Heather Cohen Elected to BFOA Board of Directors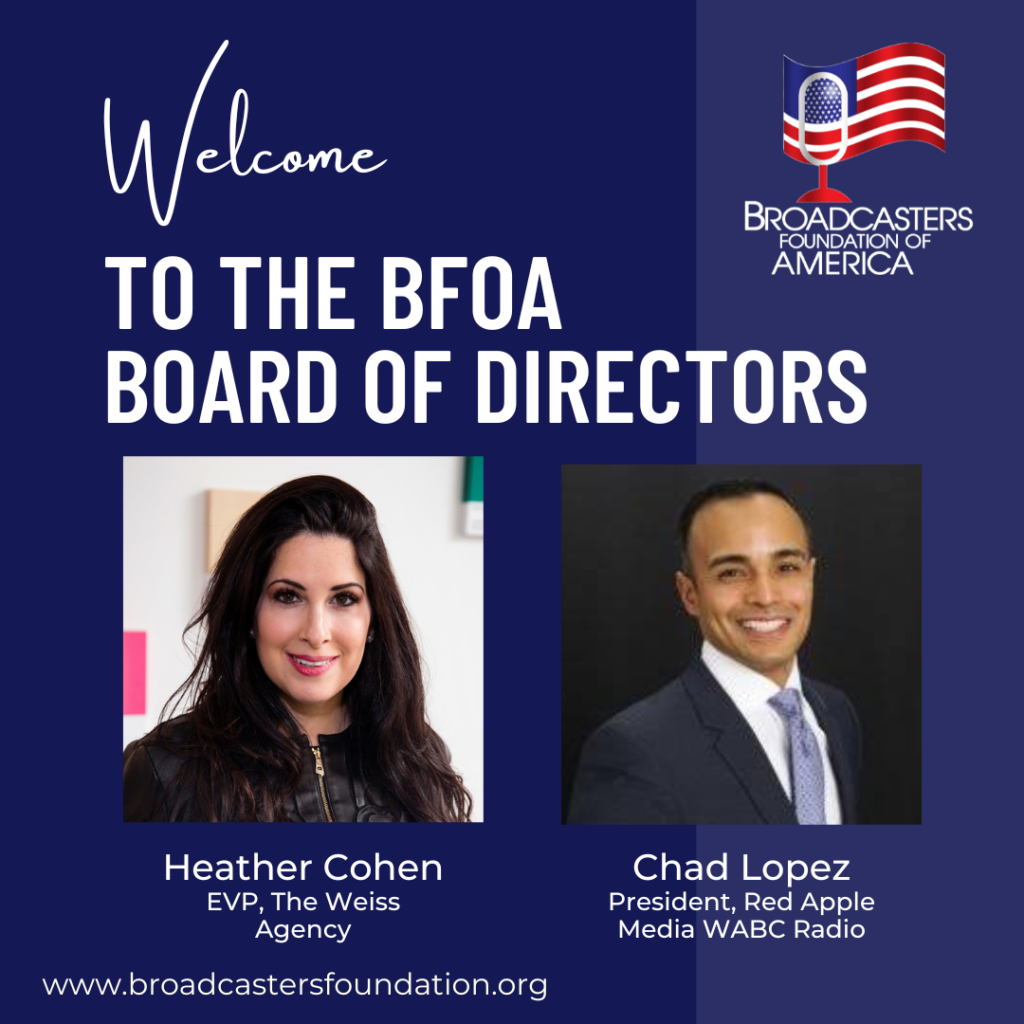 New York, NY – June 14, 2023 – The Broadcasters Foundation of America has elected Chad Lopez, President of Red Apple Media and 77 WABC New York, and Heather Cohen, Executive Vice President of the Weiss Agency, to its Board of Directors. The new directors were voted in during the recent Foundation's Board of Directors' meeting in New York City.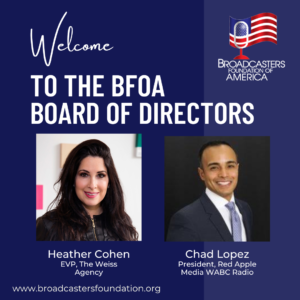 "Chad and Heather are exceptional broadcast industry leaders, and they are a terrific addition to our Board of Directors," said Scott Herman, Chairman of the Broadcasters Foundation. "I look forward to working with them to continue our mission of helping broadcasters in dire need."
Lopez has over 25 years of experience in broadcast and digital media. Under his leadership, WABC-AM has achieved phenomenal growth and is now the #1 News/Talk radio station and #1 station overall in Time Spent Listening in the New York metro area.  In addition, he oversaw the launch of the Red Apple Audio Network. Prior to Red Apple Media, Lopez had been Vice President of Cumulus Media's New York cluster.
As Executive Vice President of the Weiss Agency, Cohen represents and develops the careers of many of broadcasting's most successful local and syndicated personalities. Cohen serves on the Alliance for Women in Media and its Foundation Board of Directors, is immediate Past Chair, and has co-chaired the Gracie Allen Awards since 2016. Most recently, she was appointed President of the Executive Board of Hofstra University's Alumni Organization. . She has been one of Radio Ink's Most Influential Women in Radio every year since 2014. Cohen had been an officer of the Broadcasters Foundation Board since last December.
The Broadcasters Foundation's Board of Directors is comprised of highly respected broadcast executives who are committed to "giving back" through the Broadcasters Foundation. The members of the Board represent a wide array of broadcast and broadcast-related companies.
About the Broadcasters Foundation of America: www.broadcastersfoundation.org
The mission of the Broadcasters Foundation of America is to improve the quality of life of men and women in the radio and television broadcast profession who find themselves in acute financial need due to a critical illness, severe accident, or other serious misfortune. The Broadcasters Foundation of America is a 501(c)(3) Public Charity and has been rated 100 from Charity Navigator for solid financial health and received full credit for its program to expense ratio.