BFOA Launches First in a Series of Networking Media Mixers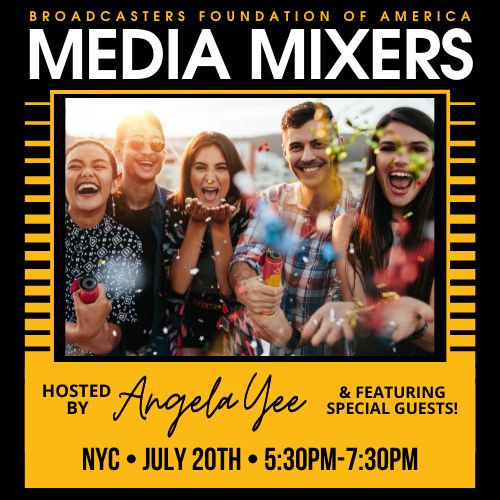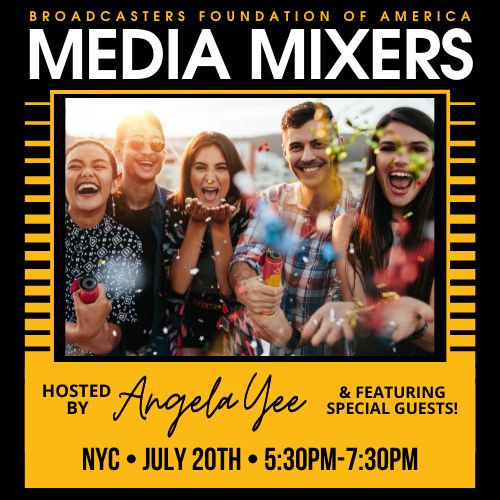 New York, NY – July 5, 2023 – The Broadcasters Foundation of America is launching a series of networking Media Mixers, with the first one scheduled for Thursday, July 20, 5:30pm to 7:30pm at the New York City studios of iHeart Media. The event will be hosted by nationally syndicated radio air personality Angela Yee, who will be joined by other radio and TV on-air talent. The purpose of the Media Mixers is twofold: to give up-and-coming professionals in broadcasting an opportunity to mix and mingle not only with their peers, but with talent, managers, and executives; and to increase their awareness of the Broadcasters Foundation charitable mission.
"We're very excited about this new initiative," said Tim McCarthy, President of the Broadcasters Foundation. "It's imperative that we reach the next generation of broadcast industry leaders with our message of help and hope, while giving them an opportunity to network with higher level professionals who they may not otherwise have an opportunity to meet."
The July Media Mixer is presented in part by industry sponsors Hearst, iHeart Radio, Katz Media, and the NY State Broadcasters Association. The two-hour event is free, but space is limited, and advance registration is required. Registration is available on the Broadcasters Foundation website at www.broadcastersfoundation.org/mediamixers.
About the Broadcasters Foundation of America: www.broadcastersfoundation.org
Over its more than 70 years of existence, the Broadcasters Foundation has distributed millions of dollars in aid to broadcasters who have lost their livelihood through a catastrophic event, debilitating disease, or unforeseen tragedy. Personal donations can be made to the Foundation's Guardian Fund. Corporate contributions are accepted through the Angel Initiative, and bequests can be made through the Foundation's Legacy Society. For more information, please visit www.broadcastersfoundation.org, call 212-373-8250, or email info@thebfoa.org.
The mission of the Broadcasters Foundation of America is to improve the quality of life and maintain the personal dignity of men and women in the radio and television broadcast profession who find themselves in acute need. The Foundation reaches out across the country to identify and provide an anonymous safety net in cases of critical illness, death of a spouse, accident, and other serious misfortune. The Broadcasters Foundation of America is a 501(c)(3) Public Charity and has been rated 100 from Charity Navigator for solid financial health and received full credit for its program to expense ratio.
Media Contact for Broadcasters Foundation of America:
Renee Cassis
RC Communications Marketing
646-808-6505
cassis2@msn.com